Details To Be Worked Out…
[4:38 PM] Impactful snow and ice accumulations are possible for Friday and Saturday as a strong low pressure system will move through the Ohio Valley. Here is what we know right now and what we are keeping a close eye on: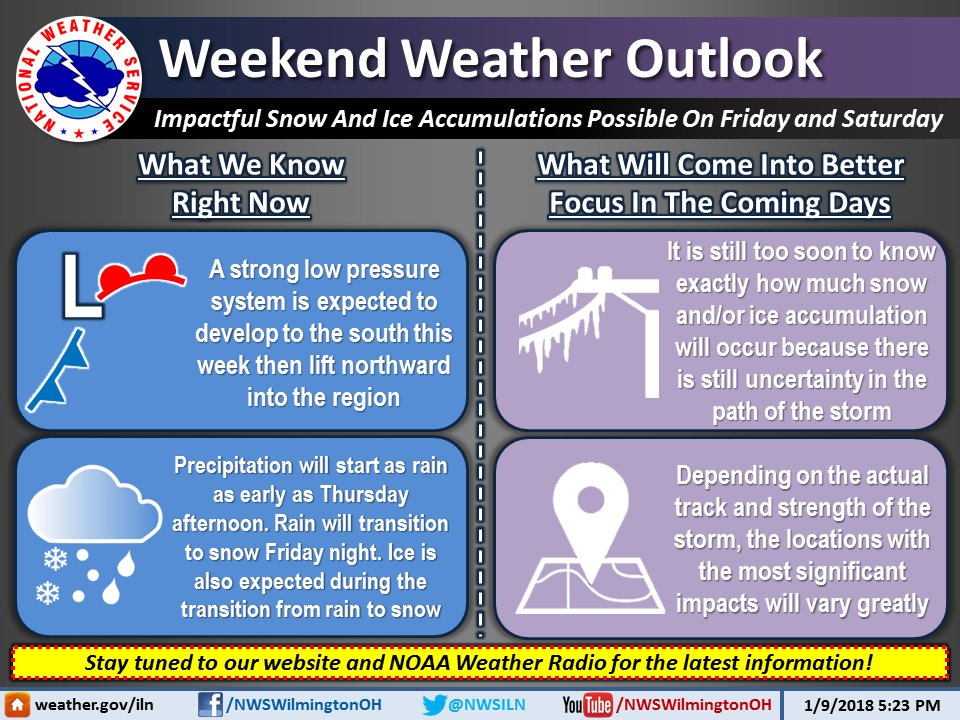 Hazardous Weather Outlook
National Weather Service Wilmington OH
259 PM EST Tue Jan 9 2018
INZ066-073>075-080-KYZ089>100-OHZ045-046-052>056-062>065-070>074-
077>082-088-101200-
Franklin IN-Ripley-Dearborn-Ohio-Switzerland-Carroll-Gallatin-Boone-
Kenton-Campbell-Owen-Grant-Pendleton-Bracken-Robertson-Mason-Lewis-
Union OH-Delaware-Champaign-Clark-Madison-Franklin OH-Licking-Greene-
Fayette OH-Pickaway-Fairfield-Butler-Warren-Clinton-Ross-Hocking-
Hamilton-Clermont-Brown-Highland-Adams-Pike-Scioto-
259 PM EST Tue Jan 9 2018
This Hazardous Weather Outlook is for Southeast Indiana, Northeast
Kentucky, Northern Kentucky, Central Ohio, Southwest Ohio and West
Central Ohio.
A low pressure system is forecast to move northeast from the
Tennessee Valley to the eastern Great Lakes Friday into Saturday.
Rain is expected to transition over to a wintry mix Friday afternoon
and then gradually changeover to snow Friday night. Accumulating
snow and ice will be possible with this system. Any slight track
differences with this system will have large implications on the
potential weather types and impacts. This weather event will have to
be watched carefully as the week progresses.