[7:54 PM] On Friday, we expect rain to change to a mix of freezing rain and sleet, before changing to snow. This changeover will happen at different times depending on your location. Everyone should be prepared for ice and snow accumulations Friday into Friday night.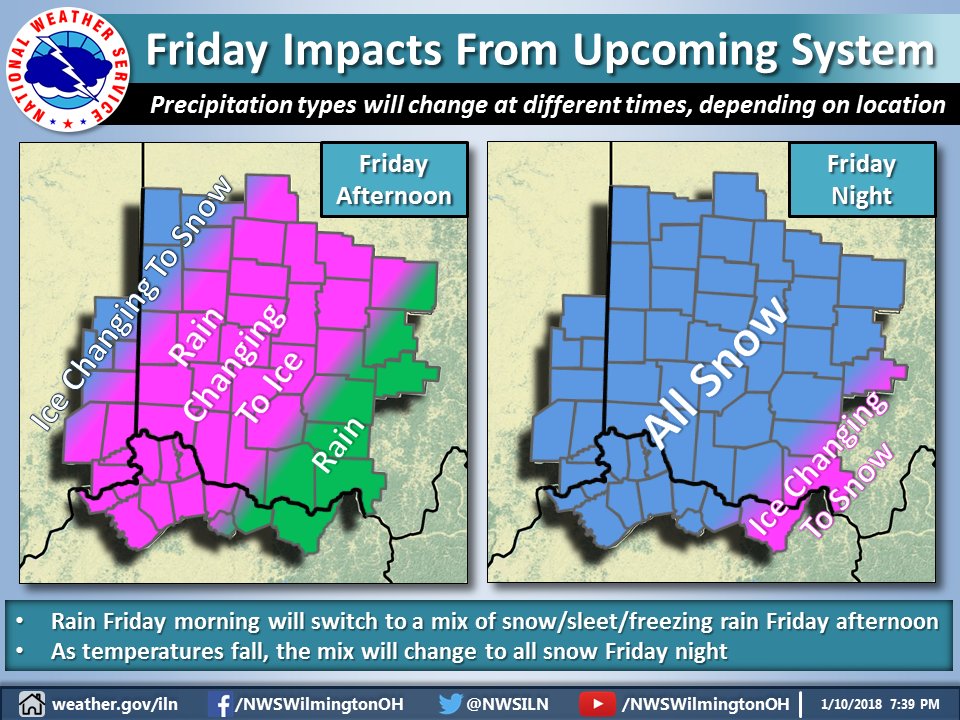 [7:55 PM] Depending on the actual track and strength of the system, some areas will see heavier accumulations than others by Friday night. Stay tuned for further updates.
——————————————
This Hazardous Weather Outlook is for East Central Indiana,
Southeast Indiana, Northern Kentucky, Central Ohio, Southwest Ohio
and West Central Ohio.
.A low pressure system is forecast to move northeast from the
Tennessee Valley to the eastern Great Lakes Friday into Saturday.
Rain is expected to transition over to a wintry mix Friday afternoon
and then gradually change over to snow Friday night. Accumulating
snow will be likely along with some ice accumulation. Any slight
track differences with this system will have large implications on
the potential weather types and impacts. This weather event will have
to be watched carefully as the week progresses.
Point Forecast:
Mack North OH
39.16°N 84.69°W (Elev. 801 ft)
Friday
Rain before 4pm, then freezing rain and sleet. High near 39. North wind 11 to 16 mph. Chance of precipitation is 100%. New ice accumulation of less than a 0.1 of an inch possible. New sleet accumulation of less than one inch possible.
Friday Night
Snow, mainly before 4am. Low around 19. North wind 13 to 17 mph, with gusts as high as 28 mph. Chance of precipitation is 100%. New snow accumulation of 2 to 4 inches possible.
Saturday
A chance of snow, mainly before noon. Cloudy, with a high near 24. Chance of precipitation is 40%. New snow accumulation of less than a half inch possible.
Saturday Night
Mostly cloudy, with a low around 9.
Sunday
Mostly sunny, with a high near 23.
Check back to the Arbor Doctor Weather Blog for future updates.