[3:51 PM] A Winter Weather Advisory has been issued for the upcoming winter system expected to move through late tonight and continue through the early hours of Saturday. Be prepared for winter driving conditions if you are planning travel Friday into Friday night.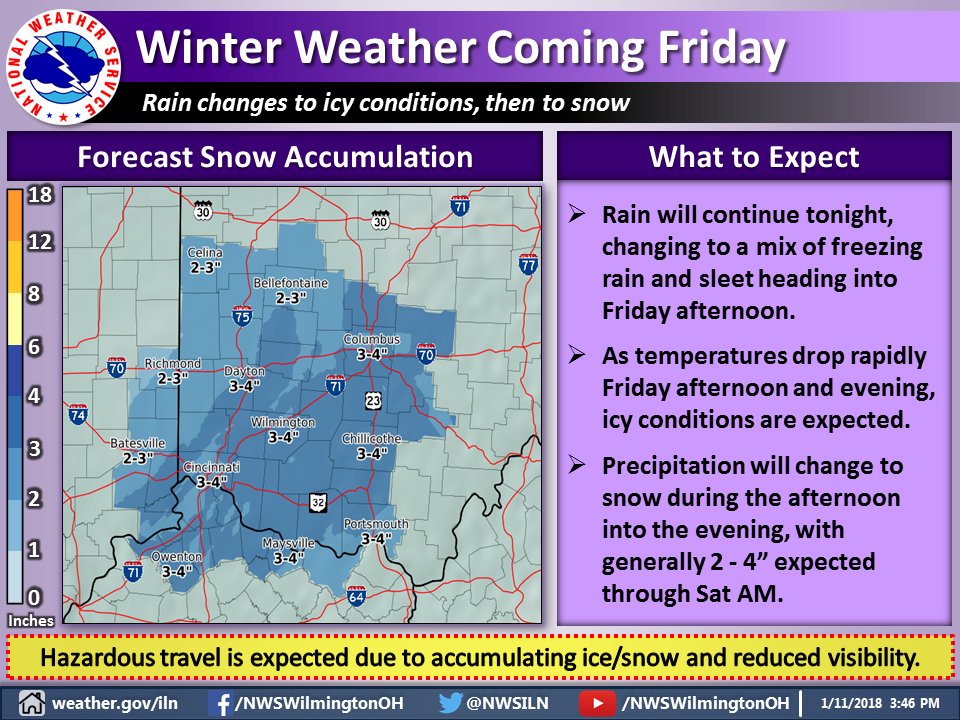 A winter weather advisory has been issued for Cincinnati. Total snow accumulations of 2 to 4 inches and ice accumulations of up to one tenth of an inch are expected. With warm ground temperatures, ice should not be a major problem on the ground. Most ice build up would be on trees and elevated surfaces such as bridges.
Trees do not have serious problems until 1/2 inch or ice accumulates and this storm should be much less. An extended period of sleet would increase icing issues but that does not currently appear to be a big concern. Storm total snow accumulations have not really changed but icing potential has lessened some.
This storm came together a bit differently than earlier expected. It will still have a significant impact but much less than earlier expected. As usual, many people jumped on earlier computer models of 20 inches of snow. One internet weather service said this would be the "storm of a lifetime". It won't be. It will make a mess of evening rush hour in Cincinnati. Conditions may start deteriorating near or shortly after noon.
Temperatures will be frigid over the weekend with some wind on the back side of the storm Saturday morning. Another system could give us an inch or two of snow Monday with more arctic cold to follow. A significant warm-up is expected in about a week or so.
URGENT - WINTER WEATHER MESSAGE
National Weather Service Wilmington OH
323 PM EST Thu Jan 11 2018

Dearborn-Ohio-Switzerland-Carroll-Gallatin-Boone-Kenton-Campbell-
Owen-Grant-Pendleton-Bracken-Union OH-Delaware-Champaign-Clark-
Madison-Franklin OH-Licking-Montgomery-Greene-Fayette OH-Butler-
Warren-Clinton-Hamilton-Clermont-Brown-Highland-
Including the cities of Lawrenceburg, Aurora, Rising Sun, Vevay,
Carrollton, Warsaw, Florence, Burlington, Oakbrook, Covington,
Erlanger, Independence, Newport, Alexandria, Owenton,
Williamstown, Crittenden, Dry Ridge, Falmouth, Butler, Augusta,
Brooksville, Marysville, Delaware, Urbana, Springfield, London,
West Jefferson, Plain City, Columbus, Newark, Dayton, Kettering,
Beavercreek, Fairborn, Xenia, Washington Court House, Hamilton,
Middletown, Fairfield, Oxford, Mason, Lebanon, Springboro,
Wilmington, Blanchester, Cincinnati, Milford, Georgetown,
Mount Orab, Hillsboro, and Greenfield
323 PM EST Thu Jan 11 2018

...WINTER WEATHER ADVISORY IN EFFECT FROM 10 AM FRIDAY TO 10 AM
EST SATURDAY...

* WHAT...Mixed precipitation expected. Plan on difficult travel
  conditions. Total snow accumulations of 2 to 4 inches and ice
  accumulations of up to one tenth of an inch are expected.

* WHERE...Portions of Southeast Indiana, Northern Kentucky and
  Central, Southwest and West Central Ohio.

* WHEN...From 10 AM Friday to 10 AM EST Saturday.

* ADDITIONAL DETAILS...Be prepared for reduced visibilities at
  times.

PRECAUTIONARY/PREPAREDNESS ACTIONS...

A Winter Weather Advisory means that periods of snow, sleet or
freezing rain will cause travel difficulties. Be prepared for
slippery roads and limited visibilities, and use caution while
driving. Additional information can be found at
www.weather.gov/iln as well as on our Facebook and Twitter pages.


A winter weather advisory has been issued instead of a winter storm warning because of the peculiar and confusing nature of National Weather Service Wilmington's advisory criteria. Even though the greatest number of accidents occur at lower accumulation amounts, lesser advisories are applied to lower amounts than higher amounts. Advisories and warnings are not generally tied to pavement temperatures and seasonal differences. A 6-inch snow in April which does not stick on pavement would have a warning while a 3-inch snow in January, which greatly affects roads, gets an advisory. Additionally, NWS Wilmington has divided their forecast area so different zones have different advisory criteria. Don't try to figure it out. You'll get a headache.